The tricky Hungarian language
You can find the first part of this journey here.
And you can find the second part of the journey here.
As soon as we crossed the border from Slovakia to Budapest, we immediately got to hear a bit of Hungarian language. It was the conductor on the train who, at first, we thought started shouting at us some really strange noises. Then we, of course, told him that we do not speak Hungarian and he just stated: "Tickets, please". Now I have to admit, that it felt strange to me, that is a personal opinion. I never had problems with languages. Being Lithuanian, I can understand a bit of Latvian as they are Baltic languages. Knowing English, German, Russian and a bit of Polish usually gets me covered in most of the regions as you get to understand the main phrases, numbers, some words in most of the countries. But Hungarian is finno ugric language, that also covers Estonian and Finnish languages. And this particular language tree is quite far from the trees of Baltic, Slavic, Celtic or Germanic, which are in the Indo-European language family. Hungarian belongs to the Uralic language family. Maybe this is why it does not seem familiar to anything from my experience.
This is when I had to forget how easy it was in Czech Republic and Slovakia. We had to go back to reading all the signs and to try to find any words that make sense to us, this made backpacking in Budapest a bit more difficult. One more difficulty of the city – there are almost no signs in other languages. Even in metro you will only see Hungarian language. So going with the public transport is more tricky too.
We arrived in Budapest quite late but we booked accommodation through Booking.com, this time, a nice small apartment in the city centre. We only had two nights in this place, so we thought we would rather pick something in a good location, to be able to see more, to feel the city life. I must say, this time, we were really happy with the accommodation, although it was not that cheap – we paid 42 Euros for 2 nights, for 2 people. We thought the price was 32 Eur, but only after we booked, we noticed the small sentence stating that we will need to pay 10 Eur for cleaning services. Nevertheless, the place was in a great location, the apartment had a small kitchen, comfy big bed, it was really clean and cosy. The only problem we had was that the guy who had to give us the keys was late and we had to wait for him to turn up, no one was picking the phone when we tried calling. So in the late evening, this did not feel very right. But we got there at the end, so if you have patience with that kind of stuff, I would recommend VVP Apartments, you can check their prices here.
Oh, the history and the architecture…
I mentioned in the first part of this journey, that we are not the type of people who enjoy the big cities and we tend to look for nature and wildlife. But Budapest really catches your attention. Similar to Rome, it has some kind of charm that you can't ignore. I must say, backpacking in Budapest was not what I imagined when going to a big city.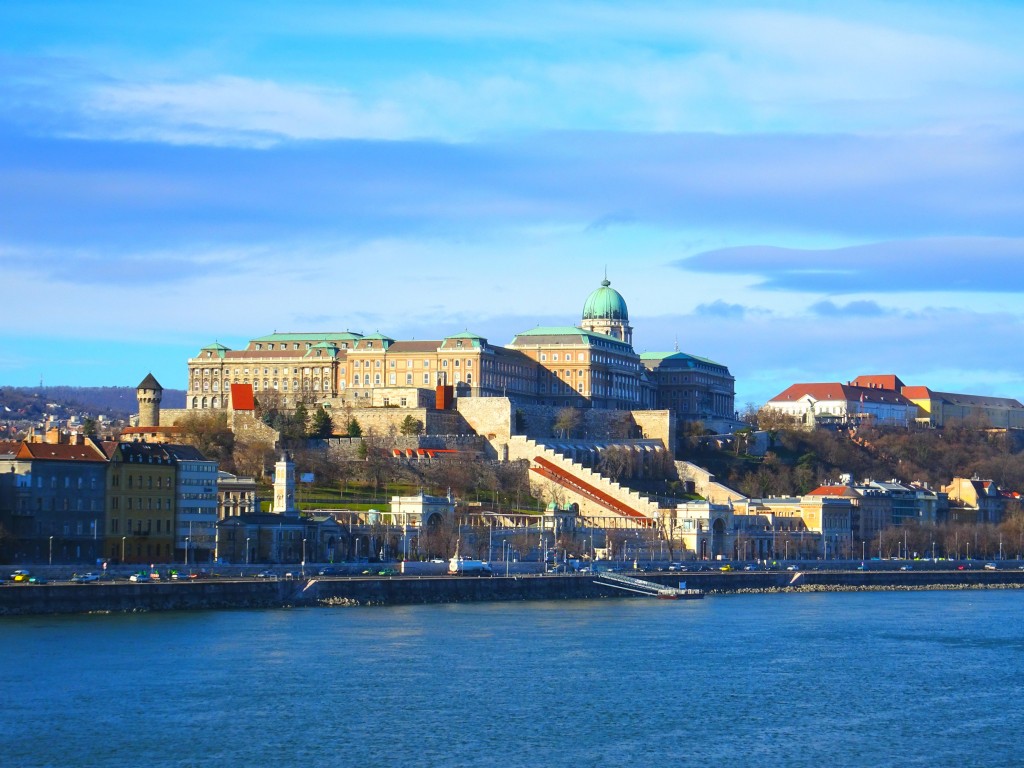 If you like history and castles, backpacking in Budapest will be a real treat for you. As soon as you approach the Danube river the whole picture opens up right in front of you. Beautiful old part of the city with the castle popping out high and strong. The picture reminded me of the on in Prague, by which I mean the placement of the castle, the church, and some other monuments.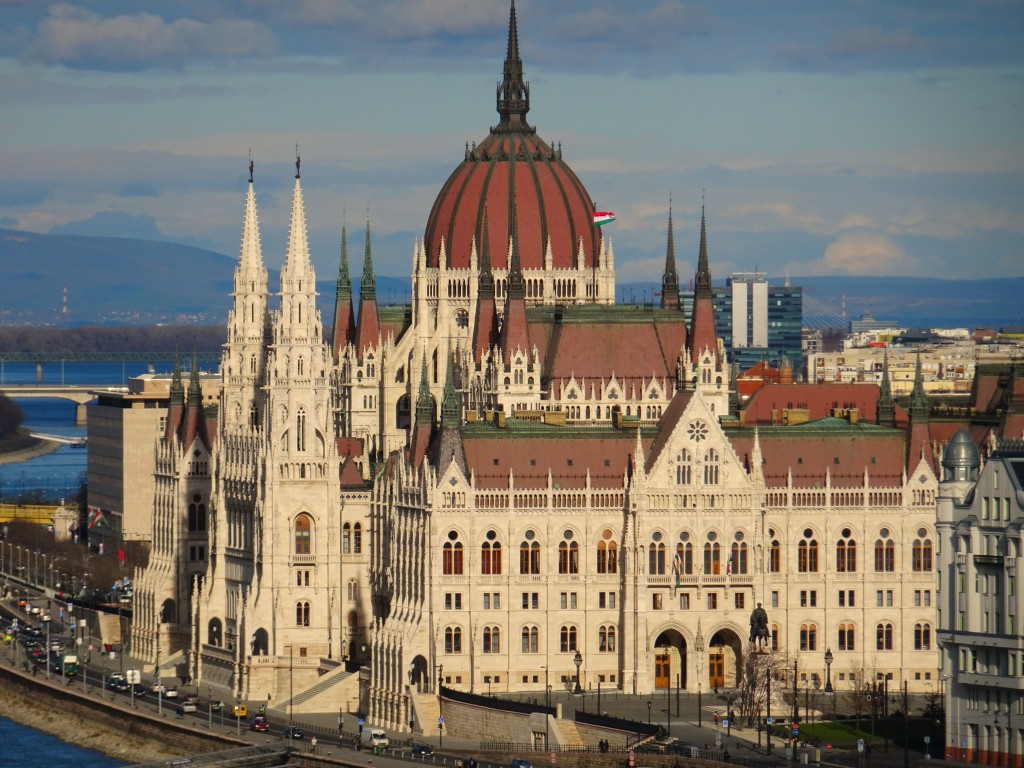 It is really easy to walk around the city so we went to the castle on foot. After crossing the Danube river you can explore a lot. We did not have much time, so our day focused mainly walking around the castle. We went to the second floor of it (for free), walked on top of the walls, went into the castle's courtyard as well.
Again, what amazed us was that we could do it for free. I remember getting close to the Castle of Prague, as soon as everyone went near it, you had to pay to enter the area that surrounds it. Backpacking in Budapest did not feel so touristic.
Of course, the tours in the castle itself were not free, but this would be too much of a treat for us. We skipped the tours, took a lot of pictures of the city and went back to the area we stayed in. We were going out later that night.
The vibe of Budapest
Travelling in big cities rarely goes without trying out the nightlife. Backpacking in Budapest was no different. We did not go clubbing or getting hammered, but we tried quite a few of the local bars/pubs. We circled the area, picked out the most interesting looking places and went in for a pint of beer or a glass of wine just to see the locals (Hungary is known for its wine; I did not find any interesting beers here). It was Monday or Tuesday night, we did not have high hopes of thrilling nightlife going on, but we were surprised by how many people were out partying and socializing in the middle of the week. I guess Budapest is just too big and too charming to stay at home waiting for the weekend.
For drinks, we found this amazing cafe – bar right next to our door called Nappali Kavehaz. We loved the atmosphere, we loved the location and the staff was really nice and friendly. People in the bar looked all positive: there were a few watching football in the corner, there were a group of middle-aged ladies enjoying a conversation, there were groups of younger people, all smiling, enjoying their time. We felt really good in this place.
We can say this – backpacking in Budapest really reminded us that not every big city is so negative. The views were great, the vibe was great. Maybe it's a bit loud, but after weeks in nature, you can cope with a few days of traffic and crowds.
Keeping the budget low requires tough choices
Backpacking in Budapest was not too cheap. The nicer and popular the city, the higher the prices. Although you won't spend too much on accommodation and drinks, food is the bigger part you will spend on in this city. We spent hours walking around trying to see some shacks where the locals would eat. The problem was that we were right in the city centre. So seeing some place with cheap yet normal food was impossible unless you would know the area. Not knowing Hungarian also made it difficult to understand the signs.
We found one place that looked amazing: they had traditional Hungarian food, they had a huge variety of choices, everything smelled delicious. The problem was – everything was written in Hungarian, people were staring at us when we entered and started asking things in English. We could have maybe stayed longer, searched for someone who would speak English and tried the local food, but we were too tired and too hungry. So we left and went to an Asian food place where we had some proper size and price food. So the plan of getting some cheap local food failed.
Having to cope with a low travelling budget sometimes means you will not have all the chances to eat out. But we had a kitchen, so we used that to our benefit. We bought some local meat, cheese, and other products and made ourselves food at home. This actually kept our budget low and for people who love to cook, it's not that big of a deal.
Getting to the airport with public transport
Having trouble to understand Hungarian when backpacking in Budapest, we thought getting to the airport with public transport will be difficult. We were told that it's better to get a taxi by the guy who was renting the place we stayed at too. Most of the comments suggested getting a taxi as well. But we thought that it just can't be that hard. Well at least I did as Giedre, my travel companion, is the best navigator I know. So I thought she will be responsible if we get lost.
To be fair, it was not hard. I do not know why people say it's that difficult. Plan ahead, go early, to have some time if you get lost. We found this great tool to use in Budapest – a trip planner. Enter your address and the airport and it will show you the route. We went with the metro blue line number 3 and then with the bus 200E that went to the Airport itself. We bought the tickets in the ticket information kiosk, you can find them everywhere. We explained how we are going and they sold us the cheapest tickets, which were combined tickets for metro and bus. Finally, if you feel lost between all the stops in the metro line or the bus, just count them before you go. It's easy if you know that you have to leave the metro on its 6th stop since you entered it.
To summarize this Winter trip to Central Europe I have to say that I expected it to be a lot worse since it was not the best season. But I really enjoyed it, it reminded me why I chose backpacking as my way of life. I loved Czech Republic and Slovakia. And Budapest really was a lot more enjoyable for me – a person who loves nature – than I thought it would be. Still, I feel that I did not have enough time and opportunities in Hungary. This country has a lot to offer besides the city of Budapest. We hope to come back and experience more of it.
If you like warmer weather, condider hiking in Greece.