Seattle to North Cascades national park
We stayed in Seattle for 2 days, during which we managed to get the stuff we needed – some cooking pots, cups, fire starters and all the food for the first national park – the North Cascades. We bought quite a bit of canned food, bread, cheese, some ham and similar stuff, that we will be eating throughout the whole time in the national park.
After we got our rented car – Ford Focus compact (an economic car with quite a big trunk) we were finally set to get out there for the first time. To be fair, I could have written a bit about Seattle, but the city did not inspire me to write a lot about it. I mean, don't get me wrong, the city is nice, nothing's wrong with it, but it just doesn't have anything different about it. We aren't big city lovers; maybe this was the main case we did not find it interesting. Although it cannot compare to the liveliness and noise of Hanoi; to the beauty and history of Rome; to the smells and diversity of Kuala Lumpur.
Getting to the North Cascades national park
As soon as we finally managed to escape the traffic jam that started in Seattle and went for around an hour and a half, we headed out into the rural territories. This was the moment that we knew – we will see everything we wished for and even more.
The serpentine roads crossing light blue rivers, the new mountain shapes that appear after every new turn, the green and tall forests that surround lakes and ponds – this and a lot more was what the state of Washington had to offer. It was what we imagined it would be and more. Also, the driving to the North Cascades reminded us a lot of the game Need for speed, the first editions; except the speed limits were a lot lower than those in the game.
First night in the national park
As soon as we entered the National park we went to the National park information center to get some tips on our hike and camping and to buy the Annual park pass – a great thing to get if you are planning on going to 4 or more parks within a year. It only costs 80 USD but it allows you to enter all the national parks and national forests for free.
The good part was – we got the pass. The bad one – the campground we wanted to stay in was full. So were most of the other ones around the area we wanted to be in. We were told to try to build our tent on a side of the road, where it was legal, so we did just that. After all it was already getting dark.
Guarding us from bears…
After a bit of driving we found a perfect spot – only a few cars going by, a fire ring and even some fire logs next to it. Immediately we had our dinner and went to our tent to get some sleep. It was when the voices of the wildlife began to make all the noises… There was a new sound almost every minute. You could not see even a meter further than the tent. With every new sound my imagination drew new horrible beasts in my head… Well that was my experience. Giedre (my wife) was sleeping like a baby. She wasn't bothered by any sounds and voices of the wildlife. The only thing that was bothering her was me, getting up and clapping with loud noise from every small noise, thinking it's a bear trying to get close to our tent… Well, it was the first time I had to be a few millimetres away from potential wildlife. I did not sleep much that night. Every 20 minutes or so I was waking up with a flashlight to look around the tent if there is anything roaming around us. I even attached a knife to my underwear, so I would have a weapon if anything would come for us. A true knight on a white horse…
The First Hike
The next morning, when Giedre stopped teasing me for being the brave knight of the night, we went out to start our first hike in the US. It was an easy challenge, only 3.5 miles. We only wanted to see what shape we are in, so we could plan our next hikes accordingly. Our shape wasn't perfect but the hike did not take too long.
We were trying to spot as much wildlife as we could but the animals in the national park were quite shy. We were amazed by the flora of the forest though. We have never seen bigger trees in our lives. We felt a lot braver now as you were able to see most of your surroundings and believe that you are capable of changing the outcome if you would meet an aggressive animal.
The final destination of the hike was not as amazing as we hoped it would be. It was a small lake on a mountain. I imagine it's a perfect place for animals to gather but we only saw a few birds and chipmunks there. We rushed back down quite fast as we still wanted to go through a few campgrounds to be able to have a better place than that side of the road where I would need to guard us both again the whole night…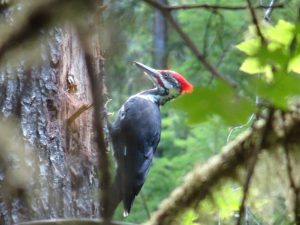 The culture of American campgrounds
We got a campsite quite fast. People were already leaving before us so we managed to get a nice spot in the middle of a forest.
The campgrounds in the US usually have a fire ring, a picnic table; most of them have potable (drinking) water around. And to be fair, this was everything we needed. The bonus was a lake right next to the campground. We used it to at least wash ourselves a little bit before we would find a normal shower. It was cold as your ex's heart, but it had to be done…
I have to say I did not imagine how many people love to go camping in the US. All the empty spots were filled immediately. The rangers in the campground were super-friendly. At 7PM we also got on a program where they spoke about bats. That was mainly for kids, but quite interesting…
The next day – the next national park
The next morning we got up very early to be able to get to our next national park – Little Pend Oreille – in time to get our campground. We left North Cascades with a smile. I have never seen a road more beautiful than the scenic road of North Cascades in my life before. Nature is just thrilling.
If you're interested in finding amazing hikes in Washington, here are our recommendations:
Chain Lakes Loop hike in Mt Baker
Yellow Aster Butte in Mt Baker
Maple Pass Loop in North Cascades National Park
Heliotrope Ridge in Mt Baker
Skyline Divide in Mt Baker
Enjoy and comment if you tried these.