The journey from the North Cascades took a lot longer than we anticipated. We had to make a long stop to find wi-fi and to book a night we needed after Little Pend Oreille wildlife refuge. In the end we figured that it's Sunday, there won't ne too many people trying to get into the park. We guessed right – we were the only ones in the campground.
The journey itself was interesting as well, as for the first time we saw desert-like yellow fields that changed the "all green" pattern of Washington state. We enjoyed the view. It was the first time that we noticed how diverse was the nature of the United States.
Back into the forest
The drive was longer than I thought. Being an inexperienced driver I needed to make an additional stop to rest. But in the end we made it.
The goal of going to Little Pend Oreille was to see some wildlife. The first hope of seeing life was right at the start when we saw some wild turkeys (we do not have them in Lithuania and I haven't seen wild turkeys anywhere before). They looked really cool. I started calling them velociraptors as they reminded me of a pack of small dinosaurs searching for their prey.
As the information center was closed we managed to find some leaflets with the potential wildlife to spot. There were black bears, coyotes, wolves, mountain lions, moose and many other species. The potential seemed huge.
I liked our campground. It was nice, had some good shade and clean. The best part was – free fire logs everywhere. Finally we were able to make some hot food (canned beans, tea, coffee, canned tuna).
Although the fact that we were there all by our selves did draw some bad pictures in my head. I mean we did not know the wildlife of this country. We knew how to act if we saw a bear etc., but still, when it became dark, we went to sleep in our car. Also, we wanted to try how comfortable would it be. It was quite allright, just a bit cold.
That evening we also went to an overlook to try and spot some wildlife next to the lake. Our catch was a deer with a young-ling (or how do you call a small deer?)
The second day
We got up very early as we wanted to do the auto-tour. According to the leaflet it was the best way to see some wildlife… Nothing. We went the whole circle around the park and all we saw were cows… After that we went on a 5 mile hike – no animals again.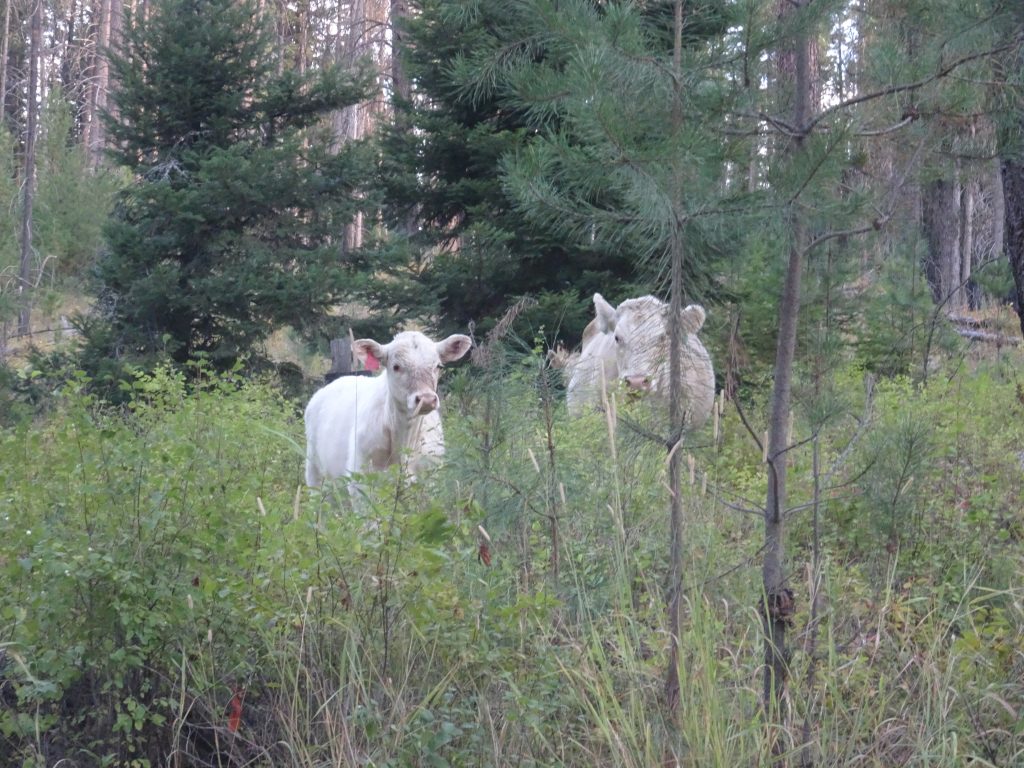 We did not give up just yet. After all the fuss and dinner we went to the overlook to sit for a bit longer and too wait for the animals to come to us.
We found a little bit of freedom
After we had dinner we jumped into "Harry", our Ford Focus, which we named after Harrison Ford. We went straight to the overlook. Again, it was only us in the whole park… We had the whole space to ourselves.  We found the best spot, sat down and just waited.
We sat there for a long time. Right before we lost all hope I saw Giedre pointing at one of the trees. IT was the best view we could have hoped for. I would even say this was symbolic – a bald eagle sitting on a branch of a tall tree, looking down at all the ducks and other small birds as they were its servants. It was an amazing picture.
Soon we saw a few deer coming out of the treeline to drink some water. We enjoyed watching wildlife a lot. We did not see as much as we expected but it was worth it. The next day we found our bald eagle back on the same tree. We watched it until it flew away.
We were not in a rush that day, so we took in all the positive energy from the park that we could and drove off to our Airbnb spot, we booked for one night before our next destination – Glacier national park.
Did you know?
Did you know that you can just buy a firearm in Walmart? It's like Tescos in the UK. No wonder why the US has so many public shootings. I mean imagine: rest of world – you get angry, you grab a beer, you get over it. USA – you get angry, you go to buy a beer but find a shotgun instead. You buy a shotgun and shoot everyone that you don't like…