Putting The Backpack On Again
I must say, when all the planning is done, when you know you are really going, when it's after a while, putting on your backpack feels really special. I would say it feels a bit like putting on a cape as a child and pretending you are a superhero who has superpowers. Only now you are not pretending, but you do feel like you have special powers. Well, you definitely feel special. You have the power to reset your life again, to go travelling and live.
And a lot of time passed since my last backpacking trip which was in the summer of 2014 when I visited… The Czech Republic as well! 🙂 But there is a reason for that and it's because my partner Giedre and I are saving up money for our big trip around the world. I will add some tips on that in the Travel Tips & Tricks and Travel Opportunities sections later on.
So where was I… Oh yeah, putting the backpack again. So in between our work we managed to plan a small backpacking journey to Central Europe: The Czech Republic, Slovakia and Hungary. We got cheap flight tickets (£109 for both of us) from London Gatwick to Prague and from Budapest to London Gatwick. Our backpacking trip was quite intense: in 11 days we visited 10 different locations. But it was not rushed as some of those places felt like half a day is just enough.
The Simply Stunning Moravia, Czech Republic
Landing in the historical Prague
We flew into Prague quite late and we both knew that we will not stay in this city more than that night. It's not that we don't like Prague, but we have both been there before and we do not enjoy cities as much as we enjoy nature. So our plan was to find our hostel, leave our backpacks there and go out to have a look at the city at night. And it was not the best choice we've made… But a good travelling lesson for us anyhow.
We took a bus from the airport (always take the public transport outside of the airport, get some change in there and buy a ticket outside in the ticket machine or the driver) to the last station where we were able to get to a metro station. From there we went to Mustek station via underground metro. In a few minutes, we were already in Wenceslas Square, which is in the centre of Prague. As it appeared our hostel was right next to that location. It was called Hostel Opletalova. It took a few wrong turns until we found it, but we were really happy about the place being in the city centre. The receptionist was cool, the room was nice and tidy and it was fairly cheap when you think about the location (£20 for a night for both of us). Note here: to get the best price at this hostel we had to book through Airbnb.com, so it was a bit funny when the price on their website was bigger than in other places. The only thing that I have to point out was the prices of things you can buy in the reception: the problem was the exchange rate of Euros to Czech Koruna. Don't buy anything in Euros in there as the rate is ridiculously higher if you pay in Euros.
After leaving our backpacks in the hostel, we went out for a quick walk around the city and to get something to eat. We headed to the Vltava river as we knew that from there we would see the Charles bridge and the castle.
And Prague is beautiful. It almost does not matter what you are into – history, architecture, city life, people – Prague has it all. I do love historical buildings like castles, fortresses, swords and all that kind of stuff. So this city had things that I enjoyed looking at. Still, we are more the type of people who would watch the vast landscapes from the mountaintop, so we were fine with staying just that night.
When we were going back to our hostel (and it was around 00:30 or 01:00 at night) we noticed that there were a few bigger groups of guys who were a bit suspicious. You can see stuff like that in any city of every country, especially in those where you get tourists. 1 AM is not the safest hour to go around the city taking pictures and clearly showing everyone that you are not local. We saw one of the groups approaching a younger man, surrounding him and asking him if he had any money. We figured this was starting to get a bit tense so we went to another location to get a quick meal and go to our hostel. When we were sitting in one of the fast food places the same group went in. One of them sat behind me and started looking at me, what looked like him trying to figure out what I could have in my pockets. One of the other ones started to cause a distraction by flicking a few chairs and making a fuss and noise. This was a bit too clear for us as we know how stuff like that happens – one trying to cause a distraction, the others stealing or robbing you while everyone else are not looking. So we felt that we have to get out of that place fast. We headed straight back to our hostel to get some rest before heading to Moravia. Good lesson here: does not matter how famous or popular the place is – if there are people potentially having money on them – there are people who want to take it from them.
Next morning we continued to Telč, and from there our journey was only positive and fun. We had no problems getting there from Prague. Actually, we never had any problems getting anywhere in Czech Republic. The public transport is awesome. Buses were always coming on time, trains were very comfortable. And after we found out about a tool the locals use to plan their public transport trips – jizdnirady.cz – it was a piece of cake. Although the first driver tried to give us only one ticket after I have paid for two, so do keep in mind to check these small things as you can get in trouble if you don't.
The cosy and colourful Telč
Telc (Telč) is a beautiful small town in Moravia, in the South of Czech Republic. It has a few simple shops, where the prices are very cheap to buy some food or snacks. The old town and the castle are really nice. The colours of the buildings made it look like a very positive place. People were smiling, it was quiet and easy going. We walked around the castle's park and took a few pictures.
Later we went to grab a snack at a local restaurant near the castle. The prices were okay, considered it's the centre of the town. But we only grabbed utopenec each (a traditional pickled sausage). I love utopenec, and it's really good if you have a hangover as it's pickled so your body needs the minerals from the marinate. It's a very good value for money – you usually get 2 big sausages with bread and onions and some other greens for a very small price. So a good snack for a budget traveller!
This was also the place where we noticed an untypical thing for us: when we asked for the bill the waitress brought it to us straight away and stood there until we paid the money. So for those who think that you have some extra time to get the bill, finish your drinks, put the money on the tray and get the change in a few minutes, it was a bit of an unusual thing to have to pay to the waitress and get the change straight from her. You also have to let them know if you'll pay cash or card when asking for the bill. It's not a bad thing in any way, but we were not used to it. And it's like that in all the country (in Slovakia too).
Although we liked the town, we had plans to meet up with some friends I met on my previous trip to Czech Republic in Znojmo, so we had to rush. We picked up a bus from Telč to go to Trebíč, but only to jump out at Markvartice and catch a bus to Znojmo from there. This was the only time where we felt that we could miss our bus and end up in the middle of nowhere in winter (it was very cold that day too!). We had only 4 minutes to jump off our bus and jump on the next one so the tension rose every time our bus had to stop to give way to trucks or because of slippery roads. Good thing that we kept asking our bus driver if we are going the right way as we knew if he approves – we are going to be all right. Although the fact that he did not understand any other word than the names of the bus stops and us not understanding his answers was a bit of concern to us. We almost jumped out at the wrong stop, but thankfully the driver said "Ne, ne!" so we stayed inside. Finally, we saw Markvartice bus stop, we waited until the bus stopped, immediately jumped out of the bus after we thanked the driver, ran into the middle of a snow field and kept on believing that even though we are a few minutes late, our bus will still come for us.
It was very cold. All we could see was two roads crossing and fields of snow that surrounded us… And… our bus that took us there. It wasn't going anywhere. Strange, we thought, maybe the driver wants to make sure we catch our next bus. What a good man, I thought. 5 minutes passed – we got colder and colder. Another 5 minutes… We saw other people on the bus laughing. Finally, the bus to Znojmo appeared out of the night. It stopped next to our previous bus and… They exchanged passengers. So instead of waiting in a warm bus for the next few minutes, we were in the middle of nowhere, freezing our asses off. Well, we still have some nice laughs when we remember this situation.
The hospitality of Znojmo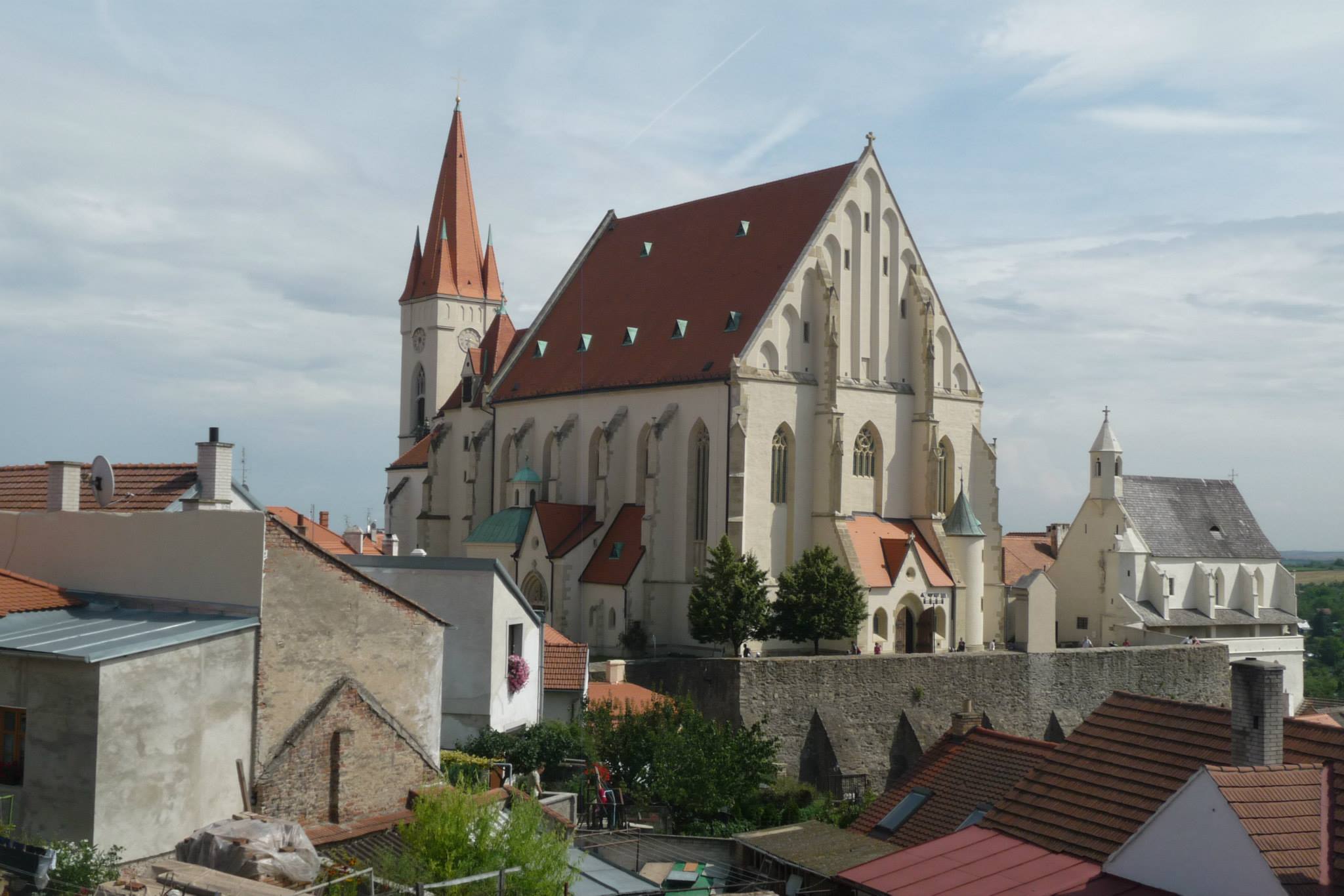 We arrived at Znojmo in the early evening. I must say this was my second trip to this warm historical town, but I was looking forward to it. I will use the older pictures as that night was all about socialising with my old friend who lives in there, so we left the camera aside. My friend Kamil was already waiting for us at the bus station. It's already a tradition that first we go to his place and eat awesome Czech traditional meals. Kamil is an actor, a musician, he also works in Znojmo underground, which was built in the 14th century. He is also passionate about food and is a great cook.
After having traditional meatballs and dumplings, we head out with him and his girlfriend Nikola to my favourite pub "Šnek", or Pivnice u Šneka. It's a proper old-looking pub that has huge massive wooden tables, low arc passages and a very good vibe. But the best thing in the pub, of course, is the Czech beer! Now Czech are famous for their beers. As a beer-lover, I must admit, that they have a big variety of it and it's different from a lot of countries.
Czech beer has a wide palette of taste, it is also more fruity and sweeter. It reminds me of Lithuanian live beer a bit. This pub has one of my most favourite beers in the world and it's called Démon. If you are more of a bitter type beer person you will not like it as much, but if you like a nice, old-fashioned sweeter type beer – it's the number 1 choice.
We had a great night and next day, after an amazing breakfast made by our host Kamil, we caught a train going to Mikulov.
Mikulov – the Little Italy of Central Europe
As soon as our morning train left Znojmo and the last buildings were out of the way, we remembered why we enjoy nature so much. Through the window we could see the wide snowy fields all around us with forests and small villages, the patterns were magnificent, there was so much white space. I could only wish we could stop the train for a few hours to go out and enjoy the view. We also love the wildlife and animals so it was like a Christmas gift to a kid when we spotted the first raptor bird sitting on a wooden pole, searching for its prey. Then we saw another one and after another few kilometres, we also saw rabbits and deer.
Every few minutes we were spotting more and more animals running around from one group of trees to another. We really thought that if we see that many animals in the Czech Republic, Slovakia should be pouring with them. We already started to think if we'll be able to see some wolfs or a bear (winter… bears are hibernating… but what if?!) as Slovakia is known for their vast wildlife.
Very soon we arrived at Mikulov. Strange, I thought, it does not seem anything like last time… I could not see the big castle which is the main symbol of the town, I could not see the vineyards surrounding the town. Only then I realised how thick was the fog that day. The unlucky thing was – the fog followed us everywhere since that morning.
Mikulov is a small town near the Austrian border with a beautiful castle on the hill right in the middle of it. It's like a town from a postcard. You see these in movies and cartoons. I think that's why I wanted to revisit and show it to Giedre, as it really stuck in my head as beautiful place, which history dates the times of Amber Road, which looks more like an Italian village than a Central European town, surrounded by vineyards and forests, and from the castle's hill you can see Austrian lights in the distance.
We did not stay over night in Mikulov. But if you would, I suggest looking into Penzions rather than hotels or hostels. They are usually cheaper in this country. It's basically a person living in a house and having more space to rent it for you. In Slovakia Penzions are more expensive, it's a bit of a different thing in there. But in Czech Republic, it's probably the cheapest place to get a room. I would recommend penzion Jola because last time I was there, I got a very nice room right in the centre of the town for a very good price, the lady who owned the place allowed me to use the kitchen and take some coffee and her husband shared a beer with me when we had a long conversation in very poor German (him being Polish and me being Lithuanian). That was fun. But it's a bit harder to understand them if you do not speak German as they are more orientated to Austrian tourists.
After having a brunch in one of the central cafes, we decided to climb the Saint Hill (Svatý kopeček) to see the view. It's a very nice and easy hike. For people who like religion maybe it's something special, but for us, it was just a good way to see the surrounding area and to make a good picture of the town and the castle. And here it is!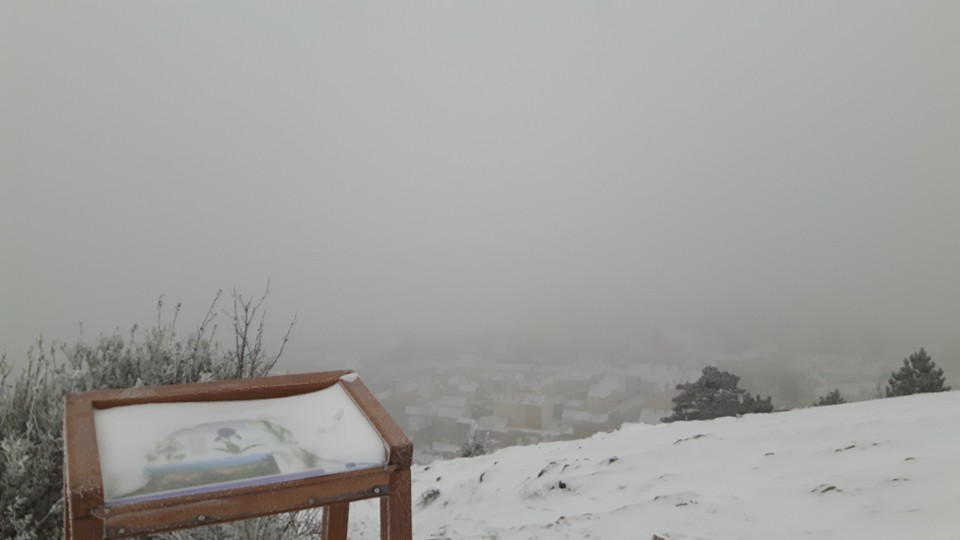 You couldn't even see the castle! And the previous photo was taken from the same Saint Hill. It did not spoil our mood too much. After a long time working in the UK, we finally had a chance to enjoy the real winter. 
We only spent half a day in Mikulov. But if you are there longer I really recommend doing the Lednice – Valtice walk. You can grab a bus from Mikulov to Lednice and then walk to Valtice. The nature is beautiful and the area is under UNESCO protection. The trekking is very easy as they have track colours everywhere so it's very hard to get lost. You only need half a day for this trip, so you can spend the night back in Mikulov.
And we carried on to our last checkpoint in the Czech Republic – Brno.
The diverse and fun Brno
We got on a bus from Mikulov that was going straight to Brno. As I mentioned before, travelling in Czech Republic is easy. Although Prague is the attraction centre of the country, Brno is the second largest city and it's a bit different. I would simply say that this is probably the talent hub of Czech Republic. It's very popular for the diversity of people who come to Brno to study and work. There's a lot of major brands who have their headquarters in Brno. And this attracts young talents from all over the world to this city.
We did not have a lot of time there as we were visiting Giedre's sister, who works there in one of the major companies for a couple of years now. She told a lot about the city's history and how it's different from Prague. I would summarise her opinion and my impressions about Brno like this: it's not as tourism orientated as Prague, but you feel here more positive, you don't feel like a tourist here. There's less attention from others as everyone minds their own business.
The city itself is diverse. They have an amazing old town with a castle popping out on a hill, but they have a lot of modern buildings in the area too. There's less separation between the old and the new here. We also found some cool art monuments… which often resembled phallic symbols… Like this picture of a horse taken from the bottom, or that clock in a shape of a dildo…
We had a good time in this city. We stayed the night in a hostel called Mitte. It's also a small cafe in the city centre, but from the cafe you can get to the hostel area. The people who work there are very nice. The only thing I found strange was their dormitory. It was next to a wall of this big studio apartment, separated from the "shared area" by a curtain. Our room was next to it so it felt a bit weird when we had to go to use the bathroom as every time we had to pass this area where students were napping in the middle of the day. But it's in a really good location so we did not have any problems with spending a night there. If this was TripAdvisor I would have still given them 8.5/10 🙂
I must say I really love the Czech Republic. It's so simple, yet beautiful and interesting. And even the smallest towns and villages have something to show. I will always be willing to come back here.
But after spending a night in Brno, we were ready to leave the amazing Czech Republic and go to Slovakia – a country famous for its nature, the mountains and some very nice hikes. So I was really looking forward to it as we started doing some hiking in the Lake District, UK. And so, we took a bus from Brno to Banska Bystrica.
Read the second part of the journey here.